History
The St. Clair amateur radio club has been around since the late forties. The hams around Belleville & Swansea put together a ham-fest at the park on route 159 (just south of the airport, remember it? West of the highway). Some of this group became the charter members of the St. Clair Amateur Radio Club.

They were quite active in the formation of the RACES portion of the civil defense and along with hams from Madison county helped set up the first weather net reporting directly to the weather bureau located at Lambert Field. 147.3 Mhz simplex was the working frequency.
They and their counterparts in surrounding counties formed the communications arm of the "Southwest Illinois Mutual Aid Area" S.W.I.M.A.A. It's home was the old county poor-farm (This later was the location of E.S.D.A) E.S.D.A has since moved to the St. Clair County Jail and is still operated by hams whenever severe weather is in the area.
The St.Clair Amateur Radio club has a long history of supporting local agency's in emergency situations. We have entered into letters of intent to support the Illinois State Police and the Belleville Memorial hospital in addition to its commitment to E.S.D.A and southern Illinois Law enforcement agency communication requirements.
In the spirit of Ham radio operators everywhere, during the big flood of 19XX here in the midwest. Club members assisted the local Red Cross and other Emergency agencies by providing communications in the field.
---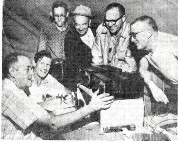 TESTING THEIR RADIO equipment Sunday at the American Legion Freedom Farm are members of the St. Clair Amateur Radio Club. They where taking part in a nationwide simulated emergency test. From left are: W.E. "Bert" Alwood president; Paul Becker, Ken Becker, Ed Matysik, treasurer; Rudy Strothmann, vice president, and George Hawk, activities manager. (News-Democrat Photo/Date Unknown)
---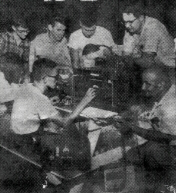 Ken Becker adjusts the transmitter to the 15-meter band during a 24-hour nationwide drill of emergency communications, which was held over the weekend in conjunction with the American Radio Relay League. Members of the St. Clair County Amateur Radio Club set up their equipment under simulated emergency conditions at American Legion's Freedom Farm on Jefferson Road and maintained contact with other radio operators throughout the U.S. and Canada. Observing ken at the controls are, from left: Tony Coleman, Bill Steffel, James Murphy, Don Wittlich, Clem Mudd, president of the St. Clair County Amateur Radio Club, and Edwin Matysick Civil Defense communications officer. (News Paper Photo/Date Unknown)